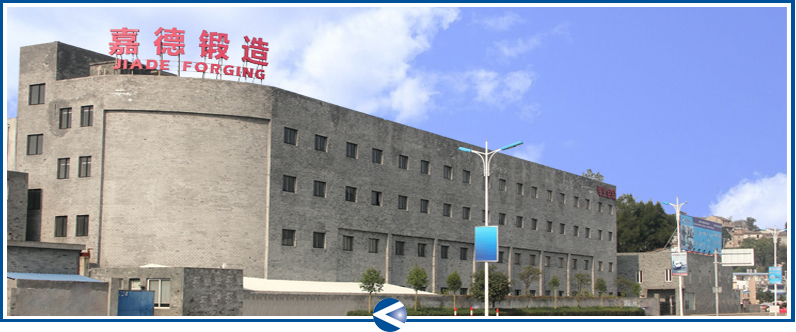 TAIZHOU JIADE FORGING CO., LTD.was established in June 1995, The company manufactures a wide range of safety and critical components for passenger cars, SUVs,aluminum forging light, medium & heavy commercial vehicles, tractors and diesel engines. The company also manufactures specialized components for the power, energy, oil & gas, rail & marine, mining & construction equipments, and other industries. It is capable of producing complex large volume parts of both steel and aluminum.
Over the years, JIADE Forging has been investing in creating State-of-the-art facilities, world-class capacities and capabilities. Our facilities include forging and machining lines, the largest of its kind and is comparable to the best in the industry. JIADE Forging has built up a strong capability in design and engineering, which gives JIADE Forging a Full Service Supply Capability, from product conceptualization to design,manufacture and product testing.
Relying on large manufacture scale, reliable quality and sound brand, JIADE FORGING has been granted the title of "National Automobile Parts Export Base Enterprise" by Chinese Ministry of Commerce and National Development and Reform Commission in September 2005. Meanwhile, JIADE FORGING has successfully entered abroad market with competitive cost performance in the market.
In order to extend sales and follow the pace of global market development, JIADE FORGING keeps close eyes on the newly related technologies. On one side, we apply CAXA system to design 3D models, which can efficiently shorten R&D period and heighten product quality. On the other side, we persistently introduce various advanced equipments, which are used in each process stage from primary forging to final machining, to control the quality and delivery better.
To improve our comprehensive service abilities, after passed ISO9002 in March 2002, JIADE FORGING was certificated ISO/TS 16949:2002 on 22th April, 2009. These actions enable JIADE FORGING to be of systematic, standardized and modernized production management, furthermore, to obtain clients' full trust.
JIADE FORGING takes person of talent seriously so as to mature our work team. We do not only provide various training for internal staff to get continuously progress, but also invite external people of talent to join us. Due to these activities, the team has become the motive force promoting enterprise's speedy development.
We hope to become your earnest business partner and warmly welcome your esteemed presence!